Skin Pen Microneedling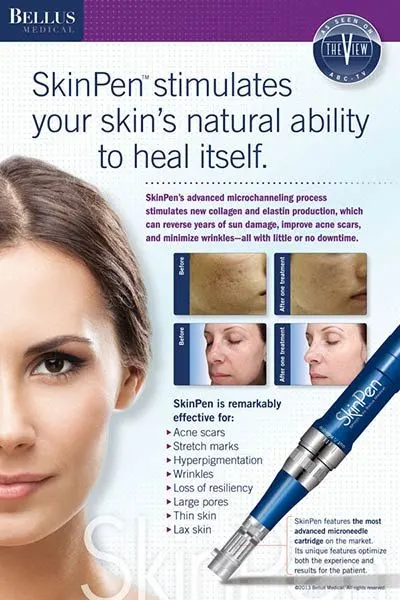 SkinPen microneedling is a minimally invasive and a quick procedure that is performed in-office. Cosmetic micro-needling creates "micro" skin punctures to improve the appearance of the skin by stimulating the use of the body's natural skin repair mechanisms, including collagen & elastin production. The minimal recovery / downtime makes SkinPen ideal for a busy lifestyle, and a great place to start for aesthetic procedures, as it is appropriate for almost every patient and skin type.
Supports healthy skin.
Post-procedure care from Acadia Dermatology ensures you receive all the right vitamins and minerals to your skin, with none of the wrong ingredients.
Results are generated from your own skin's natural collagen remodeling and elastin.
SkinPen may be used on all skin types.
Ideal for assisting in reducing the signs of aging.
A versatile, precision design for use on most all parts of the body including face, neck, and decolletage.